Description
SANICUBIC 2 XL 400V&nbspSFA&nbspSQ2XL3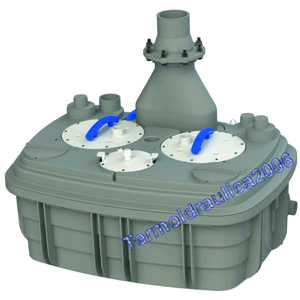 Type
SANICUBIC 2 XL 400V
Code
—
Inlet Pipework [mm]
40/50/100/110
Eject Pipework [mm]
100
IP Rating
IP68
Motor Power [W]
2×3200
Voltages [V/Hz]
380-400 / 50
Eject Height [m]
11
Eject Horizontal [m]
110
Flow rate [L/min]
916
Silence [dB]
—
Tank Volume [L]
120
SANICUBIC 2 XL IP68
The Sanicubic XL is our largest lifting station for commercial use handling up to 40mc/hour of black water via two 2kW pumps.
It is easy to install as it stands on the floor and does not need to be positioned below ground.
WHY CHOOSE THIS PRODUCT?
Ideal for large volume commercial situations
Large 120 litre tank volume
Easy to install – no need to excavate
Two alarms for ultimate safety – both hard-wired
Two integrated non-return valves and four inlets: 40/50/100/110mm and one inlet 40/50mm
Centre height of inlets 180mm
Working temperature of 35°C.
Will handle up to 70°C for short periods, see Sanicom 1 and 2 for higher temperatures and longer periods.
IP68 rated
Volt free contact for connection to a Building Management System
IP RATINGS: IP68
IP or "Ingress Protection" ratings specify the environmental protection that the product casing provides and are defined by international standards.
They are used to explain levels of sealing effectiveness of electrical enclosures against intrusion from foreign bodies e.g. dust, dirt and moisture.
Sanicubic XL has rating IP68 which gives protection against continuous submersion in water.
Includes hard-wired alarm on externally mounted control box plus secondary hardwired audio visual alarm with 5m cable, so it can be placed remotely.
Discharge Pipework: 80 or 100mm
Motor Power: 2000 Watts x 2
Flow Rate: 40mc/h
Voltages: 220-240 V/50 Hz
Tank Volume: 120L
Working Waste Water Temp: 35°C/Max 70°C (Intermittent)
Product Weight: 55kg
IP Rating: IP68


Generated by
Ready Pro
The only all-in-one solution to manage your company, your e-commerce and your eBay store